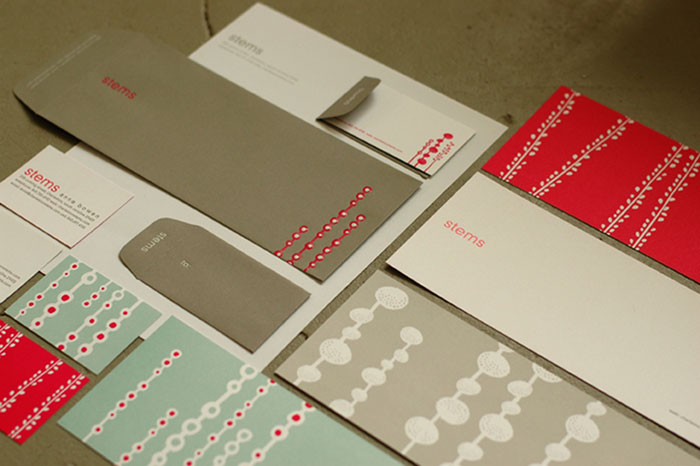 As a paper rep, my favorite projects to work on with designers were identity systems. They always seem to be the ones that offered the most freedom, especially when it comes to paper specification. Typically once the design elements are established, the focus turns to print and paper. So when it came time to pick the stocks for Parse & Parcel, I figured I got this. After all, paper is my specialty.  But like a bride to be planning her wedding, I got so caught up in the details that I forgot my own rule when it comes to identity design. Start with the envelope first.
THE ENVELOPE PLEASE
Why does one element wreck so much havoc? Well, it comes down to a couple things like size and quantity, but availability is going to be the biggest factor. If you're like me, when you're working on an identity system you've got swatchbooks all over your desk and paper samples pinned to your inspiration board. It's not enough to think just because you have a sample of the paper stock in hand that finding the matching envelope is a given. First things first, flip up the waterfall on the swatchbook and check to see that the paper mill makes the size envelope you are looking for in the grade and color you want. Next, look to see if the flap style you want is available in that size envelope. If you see both, congratulations you've overcome the first hurdle – if not, keep reading.
As long as the color paper is available in a folio sheet (usually 25 x 38 text weight), most converters can make the envelopes for a quantity of 5,000 or more. What happens if your client doesn't need 5,000 envelopes? That depends – as long as the mill stocks that envelope size and color, your paper merchant can get it. Keep in mind that means buying in quantities of 2,500 (usual full carton quantity for envelopes). Merchants can order the item from the mill – just allow for a few days. But if you're like us (and most clients these days) you're looking for a quantity between 500 – 1500, typically that means you are relegated to what ever is stocked by the local paper merchant.
KEY FACTOR: ENVELOPE AVAILABILITY
When it comes to the basic envelope, like a #10 commercial flap 24# white envelope, you can find that stocked everywhere. Even something nicer, like a bright white, smooth finish in a text & cover paper (ex. Classic Crest, Superfine, Cougar, Via, etc.) should be easy to find on a merchant's floor in a commercial or announcement size envelope. As long as the merchant stocks it, they will usually break cartons – so smaller quantities aren't a problem. Keep in mind most envelopes come 2,500 envelopes/carton and packed 250 envelopes/box – so stick to quantities of 250. What happens if the envelopes you love aren't stocked locally? Lucky for us, most of the text and cover mills (French, Mohawk, Neenah, Reich, CTI, etc.) are making their matching envelopes available directly to consumers via their website – and in smaller quantities (25, 50, 100). These typically cost more than if buying via a paper merchant, but I say that's a small price to pay for convenience.